Burma Campaign UK is today asking our supporters to write to Chancellor Jeremy Hunt ahead of the Autumn Statement on 22 November, to urge him to reinstate UK aid spend to previous levels. The aid budget was cut from 0.7% to 0.5% of national income in 2020 under then Chancellor Rishi Sunak. We are asking Jeremy Hunt to listen to just one conservative backbencher, vehemently opposed to the cut: Jeremy Hunt.
In 2021, ahead of the government allowing a vote on the aid cuts, then backbencher Jeremy Hunt wrote in the Farnham Herald: "Once in a while there is an issue which I find, with great regret, I cannot support the government on – one of which is the cuts to our aid budget."
He went on to write, referencing the Covid crisis and the financial needs in the UK, which was given as the rationale for the cuts: "I also think when you have a global crisis you need a sense of perspective. Tough though it has been for us, there are many people for whom the devastation has been much worse."
Jeremy Hunt was one of 24 Conservative members that rebelled and voted against the cuts. During his 18 years in Parliament, he has only rebelled 30 times against the majority conservative line.
"It is clear that Jeremy Hunt feels strongly about international development aid and the UK's place in the world. He should stand up to Rishi Sunak and reverse the aid cuts he so strongly opposed. A slow increase in aid over many years is not good enough during a time of such global crises and need," said Karin Valtersson, Campaigns Officer at Burma Campaign UK.
The drastic cuts to the UK aid budget have already had devastating consequences around the world, as detailed by FCDO's own assessment. In Burma, UK aid has been cut by 70% since the attempted military coup on 1 February 2021. This has come during a time of unprecedented humanitarian need, with over two million people displaced in the country. Every week, Burma Campaign UK is contacted by people in Burma desperate for basic necessities such as rice, shelter and mosquito nets.
The British government's aid cuts to Rohingya refugees in Bangladesh have been even more brutal. These cuts are now at over 80% compared to aid levels in 2019-2020. The British aid cuts are part of a pattern of global aid cuts, forcing genocide survivors in the Rohingya refugee camps to live on food provisions of only eight dollar per person a month.
In 2020, as a backbencher, Jeremy Hunt was willing to challenge then chancellor Rishi Sunak on the aid cuts. When Rishi Sunak presented the aid cuts to Parliament, Jeremy Hunt said: "To cut our aid budget by a third in a year when millions more will fall into extreme poverty will make not just them poorer, but us poorer in the eyes of the world."
"We are not asking Jeremy Hunt to listen to us. We are asking him to listen to himself. In 2020, he was willing to challenge Rishi Sunak when he thought he was wrong. Why is he not willing to do the same now, from a position of power?" said Karin Valtersson, Campaigns Officer at Burma Campaign UK.
Perhaps the cost of living crisis offers a way out for Jeremy Hunt of his previous convictions? Well again, Jeremy Hunt does not think so. Here he is in November 2020, on Twitter (now X):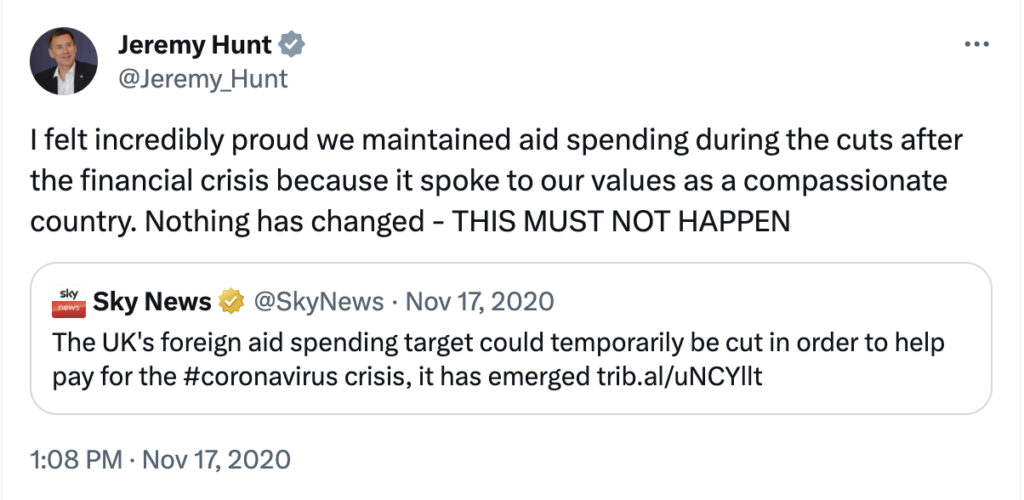 With the return of David Cameron to government as Foreign Secretary, under whose government the 0.7% aid pledge was enshrined in law, as well as the support of FCDO Minister for Development Andrew Mitchell, Jeremy Hunt should have a solid basis to challenge Sunak on the aid cuts.
It is time for the real Jeremy Hunt to please stand up.
Sources
Spending Review 2020 and OBR Forecast, 25 November 2020:
https://hansard.parliament.uk/commons/2020-11-25/debates/6437F778-628F-48A1-ADF3-C06BA1C09EBA/SpendingReview2020AndOBRForecast
Vote on aid cuts, 13 July 2021: https://hansard.parliament.uk/Commons/2021-07-13/division/76ED7BF9-C969-4B09-A452-4181EDDCA9F1/InternationalAidTreasuryUpdate?outputType=Party#party-noConservativeNoes
FCDO Equality Impact Assessment on aid cuts, published by the International Development committee 2 August 2023: https://committees.parliament.uk/committee/98/international-development-committee/news/196820/international-development-committee-reveals-real-world-impact-of-cuts-to-uk-aid/
Jeremy Hunt on aid cuts:
https://www.farnhamherald.com/news/politics/mp-jeremy-hunt-why-i-cant-support-cut-to-uk-aid-budget-195498
https://www.reuters.com/article/us-health-coronavirus-britain-aid-idUSKBN2851UL
Previous Burma Campaign Media releases on UK aid cuts:
UK aid cuts to Rohingya now at 85%