Campaign News
Drug addiction rises in Kachin State – VOA News
November 6, 2019
VOA News reports on the rise of heroin addiction in jade mining areas along the Chinese border in Kachin State.
Corruption is rife in the region.  Some law and mining officials illegally distribute the drug, which is largely smuggled in from neighbouring Shan state, according to Burma Campaign UK.
Amphetamine addiction is also on the rise. Heroin and amphetamines are readily available around internal refugee camps in the state, because of increased production by organized crime gangs and armed militia groups, including those allied with the military.
Anger at government extending life of Chinese-run mine – RFA
October 17, 2019
Radio Free Asia reports that residents of northern Shan state's Pa-O Autonomous Region are up in arms over the Burmese government's decision to extend the operation period of a Chinese-owned coal-fired power plant that they say has exceeded land use specifications, severely polluted the local environment, and jeopardized their health and their livelihoods.
The Pa-O Youth Organization says the plant piles mountains of waste byproducts directly behind people's homes, pollutes local water resources and leads to respiratory problems, high blood pressure, headaches, premature and underweight births, and skin diseases.
Wuxi Huaguang Electric Power Engineering Co. Ltd., which owns and operates the plant, is on Burma Campaign UK's Dirty List.
Burma Campaign UK joins the climate strike
September 20, 2019
Burma Campaign UK today joins the climate strike. Burma is the second most vulnerable country in the world to climate change.
Anna Roberts, Mark Farmaner and Karin Valtersson at the climate strike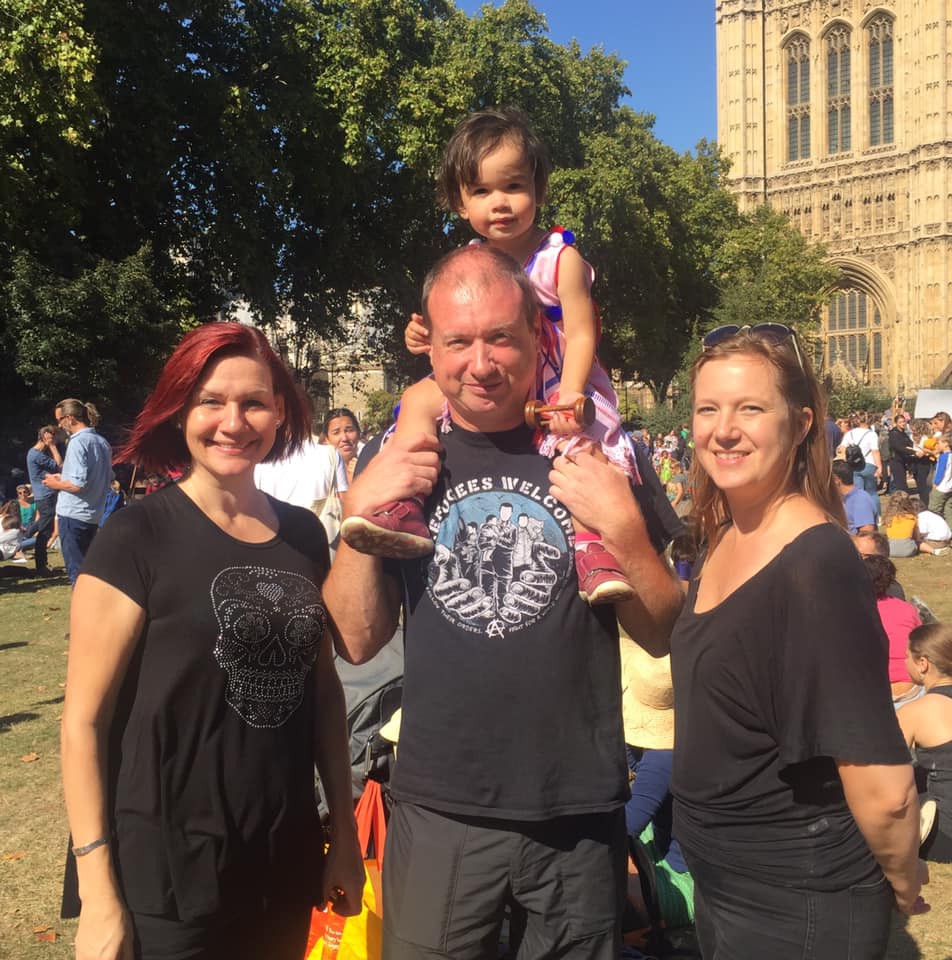 European Parliament call for ICC referral
September 19, 2019
The European Parliament today called on the EU to lead on referring Burma to the International Criminal Court.
The current EU position is that it does not support a referral and the EU and EU External Action Service have a long track record of ignoring European Parliament Resolutions on Burma.
New cross-party report by British MPs on Rohingya crisis
September 10, 2019
A new cross-party report by British MPs, two years on from the Rohingya crisis, is out today. It highlights the need for the British government to push for ICC referral, sanctions on military companies, a stronger position on Rohingya citizenship, and more long-term planning for humanitarian aid.
Burma Campaign UK gave evidence to the inquiry that resulted in the report.
Burma Campaign UK at TUC Congress
September 9, 2019
Doug Janke, Head of Development, on Burma Campaign UK's stall at this week's Trades Union Congress in Brighton. Thank you to the TUC for supporting human rights and democracy in Burma.
Doug Janke with the TUC's General Secretary Frances O'Grady
Mission to free Burmese filmmaker gains momentum
September 7, 2019
Eminent Burmese filmmaker and rights activist Min Htin Ko Ko Gyi, who was sentenced to one year in prison for criticizing the military-drafted 2008 Constitution and the military's role in politics, has drawn the attention of international organizations, says India's Face2News.
Face2News reports on Burma Campaign UK's mission to ask Aung San Suu Kyi to release Min Htin Ko Ko Gyi, and to repeal all repressive laws.
Burma Campaign UK at Vale Earth Fair
August 26, 2019
Burma Campaign UK's Executive Director Anna Roberts and Campaigns Officer Wai Hnin were at Vale Earth Fair in Guernsey this Bank Holiday weekend. Vale Earth Fair have been supporting Burma Campaign UK for many years.
Anna Roberts and Wai Hnin at Vale Earth Fair
UK rights group expands 'Dirty List' of companies with ties to army – the Irrawaddy
August 20, 2019
Nearly 40 international firms including US tech giants Google and Apple, as well as Britain's Peel Group, China's Huawei and Japanese financial services company JCB have been added to Burma Campaign UK's "Dirty List" for doing business with the military, reports the Irrawaddy.
Burma Campaign UK's Director Mark Farmaner said, "When an international company does business with a military-owned company, including promoting their products, they are helping the military to make the money it uses to commit violations of human rights."
Belgian company on 'Dirty List' cuts ties with military – VOA News
August 12, 2019
A Belgian company has become the first to announce it is cutting ties with the Burmese military after a United Nations fact-finding mission called on businesses to sever all financial links to the country's generals.
Satellite communications firm Newtec said it would "follow the recommendations by the UN and stop commercial ties with Mytel," a local mobile phone operator partially owned by the military.
But Mark Farmaner, director of Burma Campaign UK, said Newtec should have acted when they were added to the campaign's "dirty list" of firms doing business with the military. "Newtec have known for nine months that they were working for the Burmese military, and didn't care," he told VOA. "They are only ending their involvement now because of negative publicity after the fact-finding mission report, not because it is morally the right thing to do."