Campaign News
Scandalous treatment of Rohingya
May 20, 2015
A letter from Glenys Kinnock, member of the House of Lords and Patron of Burma Campaign UK, is in The Guardian:
Tahmima Anam (This migrant crisis will change our world, 20 May) is right. The root causes of the Rohingya boat people's crisis must be addressed with greater breadth and urgency. It is welcome news that Indonesia and Malaysia have finally agreed to allow thousands of desperate Rohingya refugees stranded in boats at sea to land. The danger now, however, is that international attention will move on, and the root causes of the crisis will continue to be neglected.
Among the most important of those causes is the Burmese government's deliberate, merciless policy of using a combination of brutal repression and abject poverty to drive the long-established Rohingya minority out of Burma. As part of that, their inhumane restrictions on international aid efforts by NGOs mean that camps in Burma sheltering 140,000 Rohingya who fled attacks in 2012 have been described by UN officials as having the worst conditions in the world. It is time UN secretary general Ban Ki-moon personally took the lead in negotiating free humanitarian access to these desperate people. The British and other EU governments should give him their full support in such a diplomatic effort, not least in mobilising pressure to secure change in the policies of the Burmese regime. Without that, the appalling misery and loss of life which has at last generated world interest will continue and worsen.
Glenys Kinnock
Labour, House of Lords
UK Government response to new Rohingya refugee crisis
May 18, 2015
Please share our campaign poster.
Rohingya Refugee Crisis Is a Policy Success for President Thein Sein
May 18, 2015
Article in Huffington Post today by Mark Farmaner, director at Burma Campaign UK:
"Thousands of Rohingya refugees from Burma lie starving in boats off the coasts of Thailand, Indonesia and Malaysia. Dehydrated and desperate, they are forced to drink their own urine in sight of countries which should be offering them sanctuary.
Attention is rightly focussed on these countries for refusing to accept these refugees, and on the traffickers who abandoned them there. These countries must allow the boats to land and give sanctuary to Rohingya refugees. Action also needs to be taken against traffickers and the authorities which co-operate with them.
However, without tackling the root causes of this crisis, Burma's persecution of the Rohingya, there will be no long term solution.
The simple truth is that the government of Burma has a policy of trying to drive the Rohingya out of the country. Boat loads of trafficked Rohingya heading for other countries are exactly what they want to see. For President Thein Sein, this is a policy success."
Can Myanmar afford to burn coal?
May 1, 2015
Article in Myanmar Times by Mark Farmaner, director at Burma Campaign UK:
"For most people in Myanmar, who have no electricity supply or an unreliable supply, this might seem like good news. But can Myanmar, which ranks second as the country most vulnerable to climate change and natural disasters, afford to go down the path of fossil-fuel power generation? And will most ordinary people benefit from this kind of power generation?"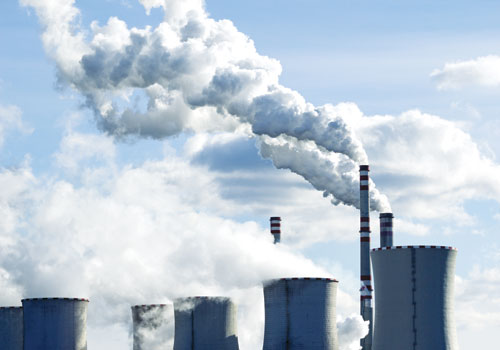 Blue Shirt Day draws attention to political prisoners
April 21, 2015
April 21, 2015 is the first anniversary of the death of U Win Tin – journalist, democracy activist, founding member of the National League for Democracy, and one of Myanmar's most high profile and respected political prisoners who spent over 19 years in prison.
At home and abroad, people will be donning blue shirts in memory of U Win Tin and the many political prisoners still incarcerated in Myanmar, according to several activist groups, including the Burma Partnership.
When U Win Tin was eventually released in 2008, he refused to hand back his blue prison shirt, and vowed to wear a blue shirt every day until all political prisoners were released, saying: "If there are no political prisoners … I will take off my shirt, but up until now I haven't seen good indications."
Sadly, despite the many promises made by President U Thein Sein to release all political prisoners, U Win Tin continued wearing a blue shirt until the day he died, one year ago, says Burma Partnership.
Read more here.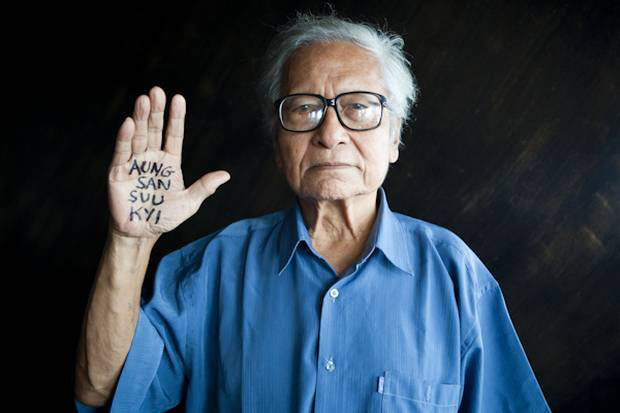 Court finds VGastro Bar trio guilty of insulting Buddhism
March 17, 2015
Mark Farmaner, director of Burma Campaign UK, told Mizzima: "This conviction is all about the government playing to Buddhist nationalists ahead of the election. How can posting an image of Buddha wearing headphones on Facebook be considered defaming Buddhism, but shooting and torturing monks and attacking monasteries in 2007 isn't?"
UK government admits 'setbacks' in Myanmar's reforms
March 13, 2015
Anna Roberts, Executive Director of Burma Campaign UK is quoted in Mizzima:
"Despite admitting there are setbacks, they have not announced any change of approach or policy. They are literally doing business as usual. Admitting there is a problem is an essential first step to dealing with a problem, now they need to change their policy, starting with reviewing the assistance they are giving to the authoritarian, military-backed Burmese government."
UK NGO calls for review of aid in wake of police crackdowns
March 12, 2015
Our statement about the crackdown on student protesters is reported in Mizzima:
"Burma Campaign UK is concerned about the muted response of the international community to the crackdown on protesting students, which stands in stark contrast to statements and actions taken after similar crackdowns by the previous regime. This mirrors a general reluctance to strongly condemn or take action on human rights violations by the government of Burma. Gaining international acceptance, getting sanctions lifted, and receiving aid and investment, was a prime motivator for the reform process. Weak and muted responses to human rights violations encourage the government of Burma to believe it can continue to commit human rights abuses without consequences."
Myanmar education law protest: Students 'at risk of torture and abuses'
March 11, 2015
Burma Campaign UK Director Mark Farmaner is quoted in the International Business Times:
"Burma is an authoritarian country and if police were told not to use violence, it is very unlikely they would have behaved this way. Burma has been under authoritarian law for decades so police don't act without permission. I believe the Burmese government gave police order to beat the protesters." "The danger is that international aids are helping to modernise an authoritarian regime rather than help transition to democracy, so many people in Burma are questioning EU's decision to provide training because even if they provide good training, police work for the government, which does not respect human rights. The EU needs to make sure that the training provided will not be then turned against protesters as it happened yesterday."