Campaign News
Time for a Global Arms Embargo
September 15, 2017
Min Aung Hlaing, head of the Burmese military, is committing ethnic cleansing against the Rohingya in Burma. He is responsible for the biggest human rights and humanitarian crisis in Burma for decades. But his brutal army is still allowed to buy foreign weapons to commit horrific human rights abuses.
We need to stop countries selling him weapons.
Please take action now to call for a global arms embargo on Burma.
Only One Person Can Stop Ethnic Cleansing In Myanmar, And It Isn't Aung San Suu Kyi
September 13, 2017
Burma Campaign UK Director Mark Farmaner writes for WorldPost on Min Aung Hlaing, the man responsible for ethnic cleansing of the Rohingya: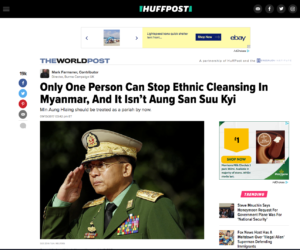 LONDON — If you haven't been paying much attention to events in Myanmar recently, you might be shocked or surprised by Aung San Suu Kyi. Yes, her response to the violence in Rakhine state, on the country's west coast, has been extremely disappointing. No, she shouldn't be denying that human rights abuses are happening. Yes, she should be speaking out in defense of the Rohingya. No, you can't take away her Nobel Peace Prize; there is no mechanism for doing so. No one knows for sure why she has taken this attitude towards the Rohingya, so stop asking.
Having got that out the way, let's focus on what's happening to the Rohingya right now, and what can be done about it.
The military in Myanmar, led by commander-in-chief Min Aung Hlaing, has launched a major military operation against Rohingya civilians using the pretext of hunting down militants who attacked government buildings, including police stations on Aug. 25. Since the offensive began, almost 400,000 Rohingya have fled to Bangladesh. According to Rohingya sources in exile and on the ground in Myanmar, there are an estimated 100,000 or more who have been internally displaced. Perhaps 5,000 people have been killed.
Horrific human rights violations have been committed — executions, beheadings, people being deliberately burned alive in their homes. Even children are being deliberately targeted by the military, security forces and armed militias and mobs. It's not surprising that the United Nations High Commissioner for Human Rights, Zeid Ra'ad Al Hussein, described the military attacks against the Rohingya as a "textbook example of ethnic cleansing."
But while the world focuses on Suu Kyi, the man responsible for these horrific abuses doesn't get mentioned in government statements or the vast majority of media articles. Min Aung Hlaing is calling the shots. Articles about Suu Kyi are exactly what he wants to see; with more focus on her and none on him, he has more freedom to carry out his ethnic cleansing campaign.
Under Myanmar's military-drafted constitution, Suu Kyi does not have control over the army. It is independent of her civilian-led government. The army controls the police, security services, prisons, border affairs and most of the civil service, and also appoints 25 percent of the members of parliament. Because 75 percent of MPs need to vote in favor of a constitutional change, Min Aung Hlaing effectively has a veto. He leads a second government in Myanmar, one armed with guns.
Min Aung Hlaing should be well known and treated as a pariah by now. He leads an army with one of the worst human rights records in the world. Even before this latest military offensive, it was under investigation by the U.N. for possible war crimes and crimes against humanity against the Rohingya and other ethnic groups in Myanmar. Even after reforms began, Min Aung Hlaing's army has been engaged in domestic conflicts, most recently in Kachin State and Shan State, where his soldiers killed civilians.
Min Aung Hlaing is guilty of ethnic cleansing, he is under investigation for war crimes and crimes against humanity and he is the biggest obstacle to democratic reform in Myanmar. Nevertheless, not only is he not facing international pressure, he is embraced by the international community.
Last October, President Obama lifted most of the U.S. sanctions specifically targeting Myanmar's military. In Europe, the British government provides the military with training at British taxpayers' expense. Earlier this year, Min Aung Hlaing was given red-carpet treatment by the governments of Germany and Austria. They discussed military training and took him on tours of factories supplying military equipment. He was also taken to visit suppliers of military equipment on his visit to Italy last year. The European Union even invited him to address their prestigious annual meeting of military heads of EU countries.
In Asia, Min Aung Hlaing has completed visits to India and Japan this year, even meeting prime ministers in those countries. As he began his campaign of ethnic cleansing against the Rohingya, he met military heads from Vietnam and Thailand to discuss closer military ties.
The international embrace of Min Aung Hlaing, despite his record on human rights, must have played a part in his calculation that he could carry out this campaign of ethnic cleansing and get away with it. So far, he appears to have calculated correctly.
This must change. It is time his sense of impunity ended. Every tool available — diplomatic, legal, economic — must be employed to apply maximum pressure on Min Aung Hlaing. Military training and cooperation must be stopped and replaced by a policy of critical engagement. Visa bans, not red carpets, should be rolled out by the international community. Countries should impose unilateral arms embargoes until a U.N.-mandated global arms embargo can be negotiated. Countries with existing arms embargoes should expand those embargoes to cover supplying equipment of any kind to the military. Military-owned companies should be targeted with sanctions, taking care to avoid hurting the general population. The Security Council should refer the situation in Myanmar to the International Criminal Court.
There are no shortage of options for pressuring Min Aung Hlaing to stop his campaign of ethnic cleansing against the Rohingya. All that is lacking is political will. The lives of the Rohingya and other ethnic groups and the prospects of a genuinely democratic Myanmar depend on that will being found.
Prince Charles warned against visiting Burma – IBT
September 12, 2017
Prince Charles has been urged to cancel a proposed trip to Myanmar this autumn, reports the International Business Times.
Mark Farmaner, director of Burma Campaign UK, said an official royal visit to Myanmar sent the wrong message at this time.
"To have someone of Prince Charles's stature go to visit the country would be seen as a reward, and giving legitimacy to the government and the military that are currently violating international law," he said.
State bids for media control – Christian Science Monitor
September 12, 2017
"By standing shoulder to shoulder with the military, [Suu Kyi] has bought into the narrative they use to justify their behavior, that the nation is under serious threat from foreign terrorists", Mark Farmaner, director of Burma Campaign UK, told the Christian Science Monitor. "Now her government is propagating that narrative, which is increasing tensions and the likelihood of further violence."
TUC conference supports Burma Campaign UK
September 11, 2017
Thanks to the TUC for supporting human rights and democracy in Burma. Doug Janke, Burma Campaign UK's head of development, on our stall at the TUC conference today.
Why won't Aung San Suu Kyi act? – BBC's Fergal Keane
September 8, 2017
Fergal Keane's article for the BBC features an image of Aung San Suu Kyi on a former Burma Campaign UK poster with the words "Please use your liberty to promote ours".
"Aung San Suu Kyi does not control the military and they do not trust her. But her refusal to condemn well-documented military abuses provides the generals with political cover", the article concludes.
Aung San Suu Kyi should speak out – CBC News
September 8, 2017
"She was the one person in the country who really could have challenged this really ingrained and endemic prejudice against Muslims in the country and Rohingya in particular," Mark Farmaner of Burma Campaign UK told Canada's CBC News.
And Tun Khin, President of Burmese Rohingya Organisation UK, said "We are witnessing the most horrific situation in our history … Now I want to ask Aung San Suu Kyi: Please use your liberty to promote ours."
Stop Myanmar's savagery against Rohingya – Asia Sentinel
September 7, 2017
Calling for international action to end the genocide against the Rohingya Muslim minority community, Asia Sentinel quotes Anna Roberts, Executive Director of Burma Campaign UK, saying that the British government has not changed its policy and is conducting business relations with Myanmar as if nothing has happened.
The Lady's failings, the military's crimes – The Guardian
September 7, 2017
In its editorial today, the Guardian calls for an end to British training of the Burmese army. "The military's head, Min Aung Hlaing, has no pedestal to topple from. Few even know his name. But they should; he is the man who calls the shots. Finding ways to exert pressure on the military is essential. Suspending the UK's training of Myanmar's army would be a good start."
Target sanctions on Burmese military – Mint Press News
September 7, 2017
Experts say targeted sanctions, rather than general criticism, are the best way to help the Rohingya, reports Mint Press News.
Arguing for pressure to be placed on individual governments to stop feting Min Aung Hlaing, Mark Farmaner said "He loves his international trips – going abroad and luxury dinners. He's posting it on his Facebook all the time."