Campaign News
Rohingya Crisis One Year One: Business As Usual For EU – OpEd
August 20, 2018
OpEd by Mark Farmaner, Director of Burma Campaign UK, in the Eurasia Review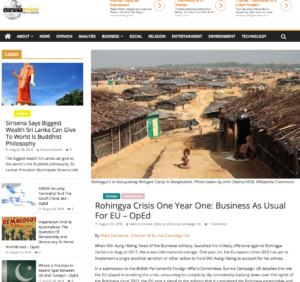 When Min Aung Hlaing, head of the Burmese military, launched his military offensive against Rohingya civilians in August 2017, there was international outrage. One year on, the European Union (EU) has yet to implement a single practical sanction or other action to hold Min Aung Hlaing to account for his crimes.
In a submission to the British Parliament's Foreign Affairs Committee, Burma Campaign UK detailed the role the EU played in enabling the crisis, amounting to complicity. By consistently backing down over the rights of the Rohingya since 2012, the EU sent a signal to the military that it considered the Rohingya expendable and would not act on abuses against them. It was a green light to Min Aung Hlaing. Despite what the United Nations describes as ethnic cleansing and possible genocide, one year on, the EU approach to the Burmese government and military remains barely changed.
The initial EU response to the crisis was a temporary suspension of invitations to senior military officers to visit the EU, but not a ban on them visiting under their own accord.
The EU then took seven months from the start the crisis to consider a range of possible measures, eventually rejecting every option except one, to place a small number of those involved in the offensive on a visa ban list, and to freeze any assets they have in the EU. Three more months passed before seven individuals were finally sanctioned. Min Aung Hlaing, who planned and oversaw the military offensive, was not included.
The British government has admitted that it is highly unlikely that the people sanctioned have any assets in the EU, and even if they did, the EU gave several months' notice of its plans to freeze assets, giving plenty of notice for any military officers who did have assets in the EU to move them.
Nor has the EU explained why military or security personnel are being sanctioned for human rights violations against the Rohingya but not for committing human rights violations against the Kachin, Shan or other ethnic groups.
Proposals for action which were rejected by the EU include supporting a referral of Burma to the International Criminal Court (ICC), supporting a UN mandated global arms embargo, and imposing targeted sanctions on military owned and controlled companies.
Instead of supporting an ICC referral, the EU asked Burma to refer itself to the court. This was obviously never going to happen and the EU knows it. This appears to be a classic EU compromise to appear to be doing something when consensus can't be reached to do anything on an issue.
For the EU not to support a UN mandated global arms embargo, when it has its own arms embargo in place, is inexplicable. If they accept that selling arms to the Burmese military is wrong, why not encourage others countries to impose their own arms embargo and start building support for a global arms embargo?
Instead of sanctioning military owned companies, the EU decided to support European companies continuing to do business with military owned and controlled companies, thereby helping to fund the military and the human rights violations it commits.
The EU rejected calls to ban the supply of any equipment to the military. This measure would have been important as EU members have continued to supply the military with equipment despite the arms embargo. For example, Germany sold Grobb training aircraft to the military only last year.
Instead, the EU claimed it was tightening its arms embargo, but when legislation was finally published there was not much evidence for this claim. A claimed tightening of dual use equipment still leaves it open for member states to decide what constitutes dual use equipment. Countries like Germany, Italy and Austria can still decide to classify military equipment sales as not being arms, even though the equipment could still enhance the capacity of the military to wage war against the people of Burma.
Ending training programmes for the Burmese military was considered by most to be a no-brainer but even here the EU failed to act. Despite a deliberately misleading statement claiming military co-operation and training was prohibited, in fact the EU left a loophole so that it can continue, saying future training will mainly focus on democratic principles and human rights.
That's what the British government said when it started providing training to the military. After a year-long freedom of information battle, Burma Campaign UK forced the British government to admit that on a 60 hour training course, only one hour was on human rights. Even that one hour was later dropped from the course.
For the military to still be receiving training from EU members, despite being investigated by the United Nations for the most serious human rights violations under international law, only enhances their sense of impunity and encourages them to commit further abuses.
So far, the EU is refusing to reveal which EU members are still providing training, but Germany and Austria offered training only last year. If the EU think they are doing the right thing then surely they have nothing to hide, why not reveal details of the training? However, so far the EU is keeping details of the training a secret.
Even now, in meetings and some statements, EU diplomats still avoid using the name Rohingya when they talk about Rohingya, despite denial of Rohingya identity being an integral part of the repression they face. Not using Rohingya when talking about the Rohingya is not neutral, it is taking sides. It is literally backing down to the demands of racists and nationalists. This only emboldens them further.
In May 2018 the European Commission announced €36 million for this year's contribution for Rohingya in camps in Bangladesh, which is less than they gave in 2017. This is an absolutely pathetic contribution given the UN request is for almost a billion dollars.
At the same time, the EU is spending €30 million on training the military controlled Burmese police force, which framed and arrested two Reuters journalists for exposing a massacre of Rohingya.
To date, the EU has not accepted that it made any mistakes in its approach towards Burma and the Rohingya. There has been no review of policy, no lessons have been learned, no policies changed, and certainly no effective action taken. The EU's complicity continues.
One year on, a million Rohingya refugees still fear for their lives – Rushanara Ali
August 16, 2018
Rushanara Ali, Chair of the All-Party Parliamentary Group on Democracy in Burma, writes in the Guardian: "The international community must urgently find a way to allow the Rohingya to rebuild their lives in safety and security."
On the UK's lack of support for referring Burma to the International Criminal Court, she writes "The sad reality is that our government, while strong on providing humanitarian assistance, has not come close to putting real pressure on the Myanmar government and its military leader, Min Aung Hlaing. If May means what she says, the UK government must support a referral of the Myanmar military to the ICC."
30 years since 1988 uprising – Time
August 8, 2018
30 years since massive, student-led uprisings threatened the military government and gave rise to the National League for Democracy, Time reports that the goals of 1988 are still far from being realised. "The NLD is not a government that is respecting human rights and the kind of freedoms that people were on the streets protesting for," says Mark Farmaner, director of Burma Campaign UK. "The NLD-led government [has] absolutely no interest in rectifying past wrongs."
Burmese Army torture village headman – Shan Human Rights Foundation
July 19, 2018
A village headman was severely tortured by troops of the Burmese Army and a local pro-government militia on June 27, 2018 in Wan Mu Ser village, southern Shan State, reports the Shan Human Rights Foundation. The headman was accused of links to the Restoration Council of Shan State/Shan State Army (RCSS/SSA).
Burma Campaign UK submits evidence to Foreign Affairs Committee
July 4, 2018
Burma Campaign UK's written evidence to the Foreign Affairs Committee's inquiry into the Foreign and Commonwealth Office's human rights work has just been published.
Public health up in smoke: Big tobacco returns to Burma – Asian Correspondent
June 27, 2018
More than 70,000 annual deaths are attributable to tobacco use in Burma, and the return of global cigarette manufacturers to a largely unregulated market suggests that the country faces an impending tobacco‐related disease epidemic, according to the Asian Correspondent.
British American Tobacco (BAT), which announced its return to Burma in July 2013 following reforms to the country's political, economic, and social systems, has emphasised the benefits of its new $50 million manufacturing operation. Confronted with the false choice between health and economic wellbeing, Burma's policymakers have apparently opted for the second of these options.
But potential investors, as well as international governments and civil society, are uneasy about recent events. Burma Campaign UK, a key actor in the previous campaign that led BAT and other companies to quit the market, is considering reviving its "Dirty List" of companies directly or indirectly linked to human rights violations.
Protests at Burmese government's plan to close IDP camps – VOA News
June 26, 2018
"I am worried about you", Burma Campaign UK's Campaigns Manager Zoya Phan told VOA Burmese News after the Burmese government announced plans to close camps for IDPs (internally displaced persons) in ethnic areas.
A statement by the Ei Tu Hta IDP Supporting Committee of ethnic organisations calls on the Burmese government to immediately halt all plans involving closure of IDP camps in ethnic areas and address the root causes of the decades-long civil war before discussion of IDP return.
Read VOA News article in Burmese
EU imposes sanctions on Myanmar officers over Rohingya offensive – Financial Times
June 25, 2018
The EU has imposed sanctions on seven regional Myanmar military and police officers over alleged atrocities against Muslim Rohingya — but stopped short of targeting top national commanders including the head of the military, Min Aung Hlaing.
Mark Farmaner, director of Burma Campaign UK, told the FT: "In effect, the entire EU response to what is probably genocide of the Rohingya is to stop seven soldiers and police officers shopping in the EU. It is hard to see how EU officials can truly believe this is an adequate response to what has taken place."
Read Financial Times article (behind paywall)
Burma Campaign UK meets Shadow Justice Minister Imran Hussain
June 21, 2018
Burma Campaign UK's Director Mark Farmaner and Campaigns Officer Karin Valtersson today met Imran Hussain MP, Shadow Justice Minister for the Labour Party, to discuss the human rights situation in Burma and the need for accountability.