Cloudflare
About the company
Cloudflare
Cloudflare is an internet services company which provides website services for the military-controlled Burmese police force, which since the coup on 1st February 2021 has arrested thousands of peaceful protesters, shot and killed protesters including children, and been involved in the torture of people who have been detained. They also support the website of military-owned Innwa Bank and the website of the military run Myanmar War Veterans Organisation.
Contact:
Matthew Prince, CEO
Cloudflare
101 Townsend St
San Francisco, CA 94107
USA
Email: press@cloudflare.com
Source:
WHOIS database accessed 29th August 2021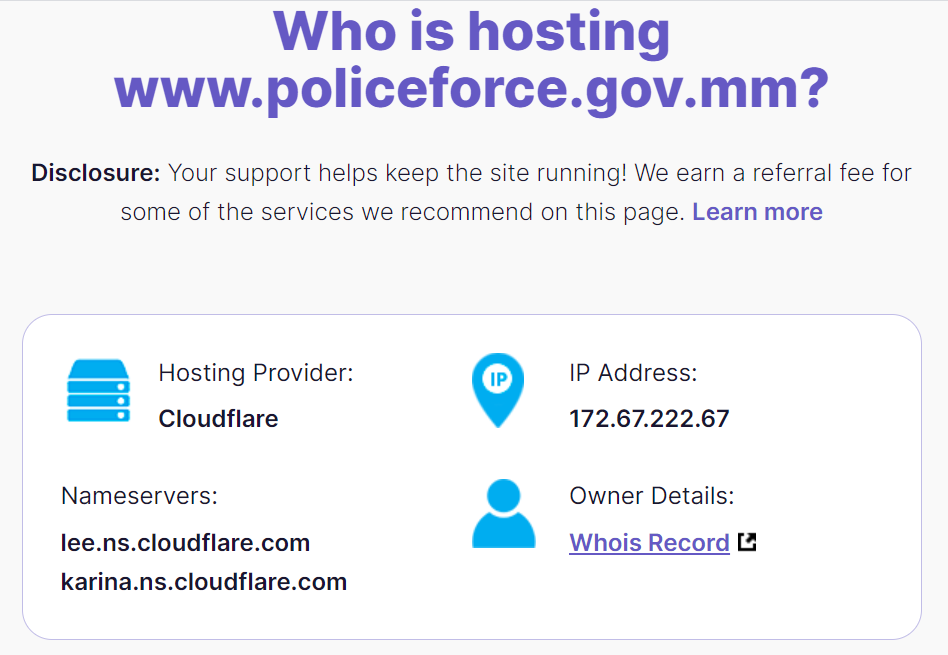 Who Is entry for Myanmar War Veterans Organisations accessed January 2022: https://whois.domaintools.com/mwvo.org
Update 8 February 2021
Media Release from International Campaign for the Rohingya and Burma Campaign UK:
Cloudflare Must Terminate Its Services For the Myanmar Military
20 March 2021
Matthew Prince, co-founder and CEO of Cloudflare, blocks Burma Campaign UK Director Mark Farmaner on Twitter:

Notified 30th November 2018
Added to the Dirty List 11 December 2018
Follow up letter sent 18th January 2022
Updated 18th January 2022 to include Innwa Bank as one of the military websites supported by Cloudflare.
Updated 21 January 2022 to include Myanmar War Veterans Organisation as one of the military websites Cloudflare work for.
The Dirty List names international companies doing business with the military in Burma. The list also includes international companies involved in projects where there are human rights violations or environmental destruction.
In September 2018, the United Nations Fact Finding Mission on Myanmar, which has been investigating human rights violations in the country, stated:
"The actions of the Tatmadaw (Burmese military) in Kachin, Rakhine and Shan States, in particular in the context of the 'clearance operations' in northern Rakhine State in 2016 and 2017, have so seriously violated international law that any engagement in any form with the Tatmadaw, its current leadership, and its businesses, is indefensible."
A PDF of the full Dirty List is available here.