Reports and Statements
Reports
Statements on uprising and arrests in August 2007
Statements on crackdown of the 2007 uprising
Burma Campaign UK works for human rights, democracy and development in Burma.
Burma Campaign UK is one of the leading Burma campaign organisations in the world.
We play a leading role in raising awareness about the situation in Burma, and pressuring the international community to take action in support of the people of Burma.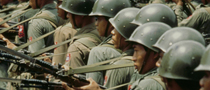 The military-backed government in Burma has one of the world's worst records on human rights, with multiple violations of international humanitarian law.
The Burmese Army rapes, loots, burns, tortures and kills. Despite these appalling acts, there is no UN global arms embargo on Burma. The brutal army is still allowed to buy foreign weapons to commit horrific human rights abuses.
A global arms embargo would have to be authorized by the United Nations Security Council, but China and Russia are both permanent members and have veto power. In 2007 they vetoed a soft non-binding resolution on Burma that called on the regime to enter into talks with the democracy movement. They also both supply arms to Burma's army. It is likely that at the present time they would also veto an arms embargo. Therefore, we need to build a global consensus in support of an arms embargo, to isolate China and Russia and make it harder for them to resist.
Please take action for a global arms embargo against Burma.