Will you wear a blue shirt for Burma's political prisoners on 21 April?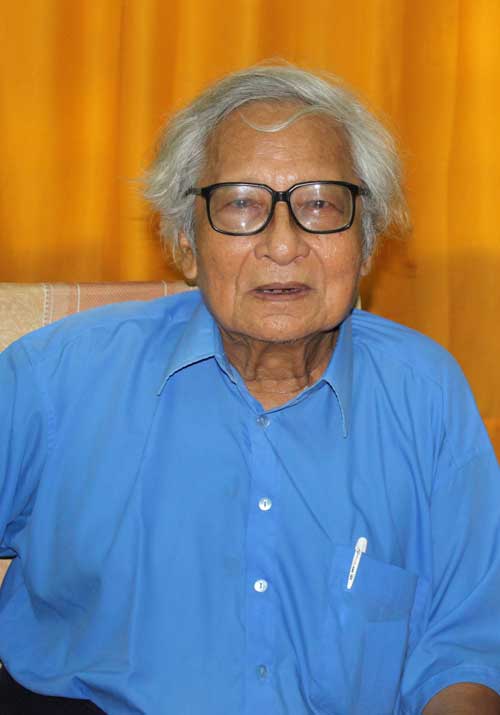 "If there are no political prisoners … I will take off my shirt but up until now I haven't seen good indications."
U Win Tin
Tuesday 21 April is the first anniversary of the death of U Win Tin, a former political prisoner and a hero of Burma's struggle for democracy and human rights. On this day around the world, people will be wearing a blue shirt in memory of U Win Tin and all the political prisoners still in Burma's jails.
U Win Tin, a journalist and founding member of the National League for Democracy, was one of Burma's longest serving political prisoners, describing his time in jail from 1989 until 2008 as living in hell. On his release he refused to hand over his blue prison shirt, and pledged to wear a blue shirt every day until all political prisoners were released. He carried on wearing a blue shirt until his death.
As the first anniversary of his death approaches, at least 173 political prisoners remain in Burma/Myanmar's jails, with a further 316 activists awaiting trial. The number of political prisoners has risen by almost 600 percent since the start of 2014.
Wear a Blue Shirt for Burma's Political Prisoners
On 21 April, we call on people to honour the memory of U Win Tin by raising awareness and taking action for the release of political prisoners still in jail. Please wear a blue shirt or blue clothing, post pictures of yourself wearing blue on social media such as Twitter, Facebook and Instagram, and let people know that there are still political prisoners in jail in Burma, and that they need our support.
Please use the hashtag: #blueshirt4burma
Share on Instagram using:
@blueshirt4burma
No Political Prisoner Left Behind
The recent release of political prisoners has been long overdue and is very welcome. However, there are still political prisoners in jail, and all the laws under which they were jailed remain in place, and must be repealed. Activists continue to be arrested.
No political prisoner should be left behind in jail.
A list of political prisoner cases you can take action on is here.