Is British aid to Burma linked with the deaths of children?
A controversial census in Burma, part paid for by British aid money, has increased ethnic tensions, triggered violence which has led to deaths, and discriminates against the Rohingya.
Support our call for an inquiry into why British aid helped pay for this census.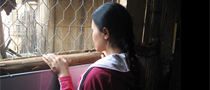 This new Briefing details how the Burmese Army has used rape and sexual violence with impunity for decades, which has continued since Thein Sein became President.
Burma Campaign UK is calling for an international investigation to be established, as it is clear that President Thein Sein and the Burmese Army are unwilling to address this issue.
Burma Campaign UK is making a difference, but without support from members of the public our work would end.