No Political Prisoner Left Behind
Thein Sein broke his promise to release all political prisoners by the end of 2013.
No political prisoner should be left behind in jail.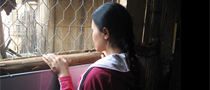 This new Briefing details how the Burmese Army has used rape and sexual violence with impunity for decades, which has continued since Thein Sein became President.
Burma Campaign UK is calling for an international investigation to be established, as it is clear that President Thein Sein and the Burmese Army are unwilling to address this issue.
Shop at Amazon and help raise money for Burma Campaign UK.
Buy any item on Amazon via our website and BCUK will receive a percentage of what you pay. Just click on the Amazon link.
The UN Special Rapporteur on human rights in Burma has said that human rights violations against the Rohingya may constitute crimes against humanity.
Email the Foreign Secretary to call on him to support an international investigation into the violence.