Burma's Plea
"Burma's Plea" is a beautifully produced photographic essay by award winning photographer Dimitra Stasinopoulou, with 400 pages of stunning photographs of life inside Burma.
How to Order
Just send a cheque payable to 'Burma Campaign UK' to:
Burma Campaign UK
28 Charles Square
London N1 6HT
Please remember to include your name and address.
Or call 020 7324 4710 to pay by debit or credit card.
Order your copy from Burma Campaign UK for £30.
(Postage and packaging within UK costs £10. For book orders from outside UK, contact info@burmacampaign.org.uk for postage costs.)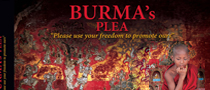 This beautiful book of photographs shows Burma's landscape, architecture and the lives and diversity of the people in this extraordinary country.