Campaign News
Burma's General Election date announced
July 16, 2015
(Photo credit: Mizzima)
The date for Burma's general elections this year has finally been announced as 8th November. Unfortunately, it is impossible for any election to be free and fair under the current conditions in ‪Burma‬. As Aung San Suu Kyi has stated, "There will be no fair elections with the current constitution."
‪Our upcoming supporter magazine will provide in-depth analysis of the election. 
Just donate here to receive a copy.
Analysis: Why Burma's election will be neither free nor fair
July 13, 2015
Article in Asian Correspondent:
The constitution has already ensured that the election result can be neither free nor fair, as it gives unelected army officers the balance of power in parliament.
Ultimate power still lies with Min Aung Hlaing rather than the electorate whose votes seem less about democratic self-determination and more about providing a military dictatorship with a veneer of respectability for an international audience that wants to see progress.
The Rohingya crisis: Why the name matters
July 11, 2015
The crisis of Burma's Rohingya Muslim continues to escalate with little to no international action to improve the lives of a persecuted minority.
Calling them by their name "Rohingya" has become something of a challenge to Burmese officials who pressure foreign officials not to use the word. Anna Roberts, executive director of the Burma Campaign UK, believes that this is part of the government's systematic policy of repression against the Rohingya.
At the UNISON conference
June 16, 2015
At the UNISON conference in Glasgow this week, where delegates are writing messages of support and solidarity for union leaders Naing Htay Lwin and Myo Min Min who are currently detained in Insein Prison.
Take action yourself to free them here.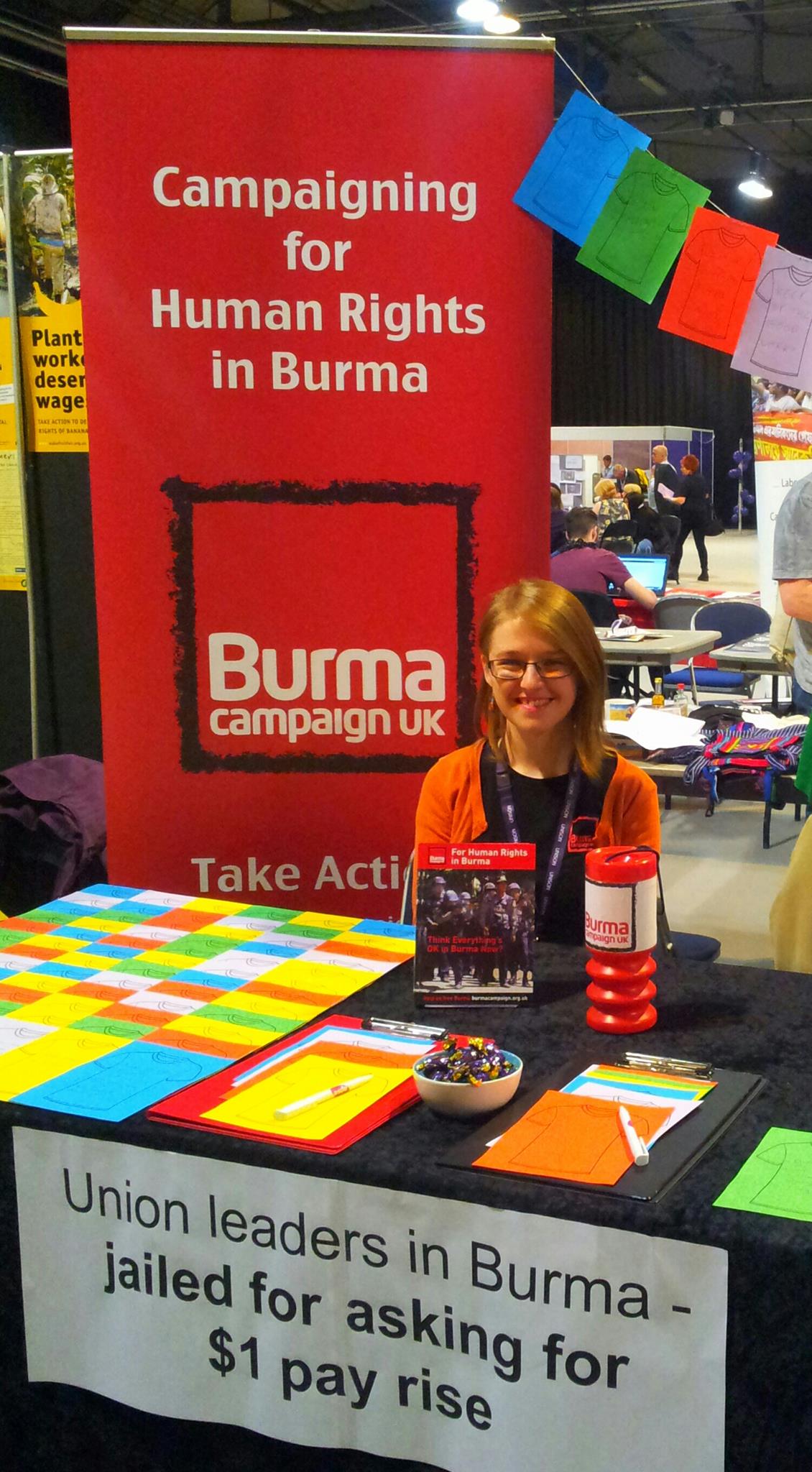 Rights group slams UNICEF's praise of Myanmar army
June 5, 2015
Mark Farmaner of Burma Campaign UK, a Myanmar-focused rights group that uses the country's former name, told Anadolu Agency Friday that although the military has released hundreds of child soldiers in recent years, the practice of recruiting and using children has continued.
"It is astonishing and irresponsible for UNICEF to continue to praise the military for releasing child soldiers when they are violating a recent agreement with UNICEF to stop recruitment and use of child soldiers," he said.
On Thursday, following the release of the 51 recruits, UNICEF's Bertrand Bainvel praised the Myanmar government's "commitment to ensuring its children are protected and have access to basic rights."
"With the Burmese military still using child soldiers, why is the British government providing training for this army, and why is the USA and Australia increasing military co-operation?"
In Focus: Rohingya persecution in Myanmar 'is ethnic cleansing'
June 5, 2015
International Business Times UK spoke with Anna Roberts, executive director at Burma Campaign UK, about the persecution of the Rohingya which has reportedly lead to massacres.
See the interview and article here.
Activists outraged as Myanmar jails writer for Buddhist insults
June 3, 2015
Our campaign to free political prisoner Htin Lin Oo is featured in this Reuters' article:
Myanmar's government "should be encouraging writers like Htin Lin Oo to promote interfaith tolerance in the country, rather than sending him to jail," Wai Hnin of the Burma Campaign UK said in a statement.
Minister worked as spin doctor for tobacco giant that paid workers £15 a month
May 31, 2015
Quoted in The Observer today:
The employment minister, Priti Patel, was part of a team of spin doctors paid hundreds of thousands of pounds to help a tobacco giant counter negative publicity, including that surrounding its joint venture with one of the world's most brutal military regimes.
"BAT's factory in Burma was jointly owned with the military dictatorship and so helped fund one of the most brutal military dictatorships in the world," said Anna Roberts, executive director at Burma Campaign UK. "BAT refused to admit how much money it gave to the dictatorship, but Burma Campaign UK estimated that BAT paid the generals $16m (£10m) in taxes alone between 1999 and 2002. In contrast, BAT paid its factory workers in Burma just £15 a month. The dictatorship spent 40% of its budget on the military."
Nations meet for migrant talks
May 29, 2015
"The Myanmar government has already played a clever tactical game. By first casting doubt about attending the summit, then agreeing to, they are being praised just for turning up. ASEAN members have now toned down their criticism of Myanmar's anti-Rohingya policies for fear Myanmar might pull out". Mark Farmaner, Director of Burma Campaign UK is quoted in the Myanmar Times.
You can read the full article here.
British campaign group calls for action on protest law
May 29, 2015
Wai Hnin, Campaigns Officer of Burma Campaign UK is quoted in Mizzima. "Naw Ohn Hla has been jailed numerous times simply for her peaceful political activities. There are many activists like her who still face arrest and harassment by Thein Sein's government," said Wai Hnin, Campaigns Officer at ‪Burma‬ Campaign UK. "The government uses repressive laws to intimidate and jail political activists like Naw Ohn Hla. The issue of ‪‎politicalprisoners‬ will remain a big problem unless all repressive laws are repealed in the country."