Campaign News
Zoya Phan interviewed by University of East Anglia
October 30, 2018
Zoya Phan, Burma Campaign UK's Campaigns Manager, graduated from the University of East Anglia in 2005 with a MA in Politics and Development. Asked by UEA's alumni team for her advice to students, Zoya said "Use your university education to strive for a better world, take risks, make decisions and go out there to make a difference."
UK discusses options for further sanctions – Mark Field MP
October 30, 2018
In reply to a written question on Burma, the Foreign Office Minister Mark Field MP gave this answer: "The UK initiated the EU's new sanctions on seven military commanders and a strengthened arms embargo … we would likely need to take further action in response to the UN Fact Finding Mission report. We are now discussing options for further EU sanctions with member states, including whether to sanction the Commander-in-Chief and his Deputy."
Helen Goodman MP speaks up for Chin refugees
October 30, 2018
Helen Goodman, Labour MP for Bishop Auckland in County Durham, has written to the UN High Commissioner for Refugees to ask that he urgently reviews the decision to suspend refugee status for Chin refugees from Burma living in Malaysia and India.
She says in her letter "It is not clear to me that any fundamental change has occurred in the country so as to justify the cessation of refugee status for the Chin refugees." We thank her for speaking up for Chin refugees, and hope UNHCR will listen.
Mark Farmaner speaks at Justice4Rohingya event
October 25, 2018
Burma Campaign UK's Director, Mark Farmaner, spoke at an event entitled "How to achieve justice for Rohingya", organised by Justice4Rohingya yesterday at the London Central Mosque.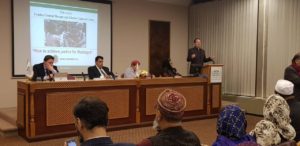 Karen environmental activist Saw Wee Eh Htoo visits London
October 22, 2018
Burma Campaign UK welcomed Saw Wee Eh Htoo, an environmental activist from Karen Wildlife Conservation Initiative, whose visit enabled us to discuss the current environmental and human rights situation in Karen State.
While in the UK, Saw Wee Eh Htoo attended a London conference on illegal wildlife trade, and met British Parliamentarians and the Karen Community Association UK.
Mark Farmaner, Saw Wee Eh Htoo, Zoya Phan, Anna Roberts
EU warned not to suspend trade preferences for Burma – Financial Times
October 18, 2018
The Financial Times reports on the message to the European Union from human rights campaigners, including Burma Campaign UK, that cutting off trade preferences for Burma would do little if nothing to sanction military leaders, while further inflaming societal tensions.
"If broad-based sanctions harmed average citizens, which is likely, then domestic anti-Rohingya sentiment would escalate," said Matthew Smith of Fortify Rights, and Mark Farmaner, of Burma Campaign UK, called the EU's potential review of trade preferences for Burma "crazy".
Read Financial Times article [login needed]
EU trade preference halt would cause widespread harm – the Irrawaddy
October 16, 2018
The Irrawaddy reports on the response to the European Union's threat to remove "everything but arms" (EBA) trade privileges from Burma.
The European Burma Network of eleven groups based in the UK, Belgium, Ireland, Sweden and Germany, including Burma Campaign UK and Burmese Rohingya Organization UK, warned the EU that "such a move risks having a disproportionate impact on ordinary people who have played no role in human rights violations against the Rohingya and others, and in fact themselves suffer from a lack of human rights and genuine democracy in Burma."
EU trade privileges move alarms garment sector – Frontier
October 6, 2018
A announcement by the European Union that it is considering suspending trade privileges for Burma has alarmed garment firms, which say hundreds of thousands of jobs are at risk.
Frontier Myanmar reports that the move has also puzzled human rights activists and campaign groups, few of whom have lobbied for broad economic sanctions.
Burma Campaign UK director Mark Farmaner told Frontier "It is ridiculous that the EU has rejected sanctions against military owned companies, rejected banning all training of the military, won't support a UN arms embargo, and won't even support referring the situation to the International Criminal Court, but is considering imposing a kind of sanction which will mainly affect ordinary people."
EU threatens economic action over Rohingya – The National
October 4, 2018
The EU is considering ending Burma's tariff-free access to the world's largest trading bloc in a significant ramping up of pressure against the regime, reports the Dubai-based National.
Campaign groups criticised the plan as it would not hurt senior military figures responsible for the ethnic cleansing of the Muslim minority and will hit thousands of young women working in the clothing sector.
"It makes no sense on any level," said Mark Farmaner, director of Burma Campaign UK. "There's almost 20 things they could do to target the military that might make an impact. Instead they are considering something that no-one is calling for."
From hero to pariah, Aung San Suu Kyi dashes hopes – New York Times
September 29, 2018
Reviewing Aung San Suu Kyi's record in office, the New York Times says Burma is in danger of again becoming a pariah state. It highlights missed opportunities such as the failure to abolish hundreds of repressive laws like the Official Secrets Act, which was used to prosecute the two Reuters journalists. Now she is under intense pressure to pardon them.
"That she has yet to release Wa Lone and Kyaw Soe Oo adds to the growing evidence of her having strong authoritarian tendencies and little interest in media freedom and freedom of expression," said Mark Farmaner, director of Burma Campaign UK.