Events
Yangon Echoes
June 17, 2016
Yangon Echoes is a new book of photography and oral histories from people living in the city's old places.
The authors, Virginia Henderson & Tim Webster, will be giving a series of talks in the UK about their book.
Yangon Echoes upcoming presentations:
23 May (18:30) at the Royal Geographical Society, London
24 May (17:15) at SOAS, University of London
26 May (18:30) at Cowcross Gallery, London
1 June (13:00) at Manchester University
2 June (TBC) at Leeds University
7 June (12:00) at the Brighton Museum
9 June (13:30) at the British Museum
17 June (14:30) at Oxford University, International Graduate School at Lady Margaret Hall
Then to Glasgow University and Edinburgh National Museum, dates TBC
Previous Events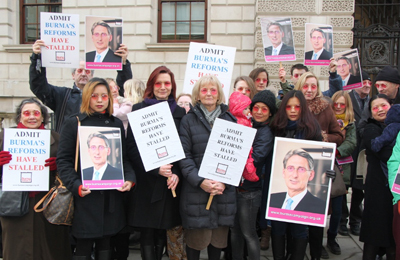 Events and demonstrations held by the Burma Campaign UK, the Burmese community or supporters of Burma Campaign UK.
If you are holding a Burma-related event and would like it added here, please email info@burmacampaign.org.uk