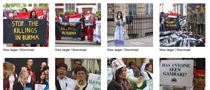 Events and demonstrations held by the Burma Campaign UK, the Burmese community or supporters of Burma Campaign UK.
If you are holding a Burma-related event and would like it added here, please email info@burmacampaign.org.uk
Events
Rose-tinted glasses hand-in at the Foreign Office
February 3, 2015
Please join us and Naomi Long MP on Tuesday 3rd February 2015, at 11.30 AM, to deliver more than 2,000 rose-tinted glasses, petitions and campaign postcards as part of our campaign to persuade the British government to stop looking at Burma through rose-tinted glasses, and return to putting human rights as their top priority in Burma.
Time and date:
11.30 AM, Tuesday 3rd February 2015
Location:
Foreign and Commonwealth Office, King Charles St, London, SW1A 2AH
Nearest tube:
Westminster
In recent months, Aung San Suu Kyi, President Obama and the United Nations have all said that Burma's reform process is stalled, backsliding, or backtracking.
The number of political prisoners has increased five-fold to 160.
Repression of the ethnic Rohingya is increasing.
New laws are being proposed which could restrict the right of women to marry non-Buddhists.
Burmese Army attacks in ethnic states continue, as has the use of rape and sexual violence.
The process in Burma is not a transition to democracy, it is a transition to a new form of authoritarian rule with the same people in charge.
Despite this, the British government refuses to admit the reform process has stalled. Instead, Ministers still talk up reforms, play down human rights violations, and focus on promoting trade and investment.
Our rose-tinted glasses campaign has been highly effective at highlighting how the British government has not based its policies on Burma on the realities on the ground. The campaign has featured in the media in the UK and in Burma, and in debates in Parliament.
Your support on the day will mean a lot to us, and help us have a bigger impact both in terms of influencing the government, and receiving media coverage.
I hope you can join us on the day.
Invitation for 54th Anniversary of Kachin Revolution Day
February 7, 2015
Jinghpaw Wunpawng Amyu Sha Hpung
Kachin National Organization
The Kachin National Organization-UK are honoured to invite you to the 54th anniversary of "Kachin Revolution Day" ceremony.
Date: 7th February 2014 (Saturday)
Time: 6:00pm – 9:00 Pm
Place: Day Hotel, Hounslow-Heathrow East, 8-10 Lampton Road, Hounslow, Greater London, TW3 1JL
Nearest Tube Station: Hounslow Central, Piccadilly line
Kachin food will be served. The importance of commemorating the "Kachin Revolution Day" is highly valued as it is a significant event of the Kachin history. Therefore, we, the Kachin National Organization, would like to request the honour of your presence to give respects to our fallen heroes and share our common struggle for freedom and equal rights.
In solidarity, Kachin National Organisation- UK
Email: info@kachinland.org, Website: www.kachinland.org
Phone: 02085381230 Contacts: Mr. Hkanhpa Sadan :07944 240774 Mr. Christopher Ring Du Lachyung : 07792357887 Mr. Dai Gyung Phugjaung: 07462168417
Previous Events