Burma Campaign UK works for human rights, democracy and development in Burma.
Burma Campaign UK is one of the leading Burma campaign organisations in the world.
We play a leading role in raising awareness about the situation in Burma, and pressuring the international community to take action in support of the people of Burma.
Facebook, Twitter, YouTube
Join Our Action Network
Sign up to our Email Network and receive the latest updates and actions from the Burma Campaign UK automatically.
As a member of this list you will not be bombarded with e-mails. We will simply keep you up to date with any significant developments in Burma, and send you information about the latest campaign actions.
Your email address will be stored in our email list database. We will not use your email address for any other purpose. You can unsubscribe at any time.
You will receive a confirmation email to stop other people signing you up to the list. You simply need to reply to the email to complete the subscription process.
We will protect your privacy. Here's our Privacy Policy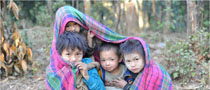 Burma Campaign UK is making a difference, but without support from members of the public our work would end.